Rhinoplasty is one of the most requested facial procedures, and for good reason. The surgery can provide life-changing results for the right candidate. A rhinoplasty can bring balance to one's overall facial appearance making them look good on the outside and feel good on the inside. Most patients experience a boost in self-image and self-confidence after their procedure.
Dr. Stein is a double board-certified facial plastic surgeon. Through is unique skills and experience he's helped thousands of men and women meet their aesthetic goals. Whether you'd prefer a subtle change or something more dramatic, Dr. Stein can create a customized rhinoplasty procedure to achieve your desired results.
What is Rhinoplasty?
Rhinoplasty, often referred to simply as a 'nose job', is a surgical procedure that allows your surgeon to resize, reshape, and contour the structure of your nose. The procedure can be done for cosmetic reasons as well as medical purposes.
Rhinoplasty surgery is done on an outpatient basis and requires very little downtime. The majority of patients are able to return to work/school within one week.
You'll notice a more contoured shape immediately following your procedure. However, it can take weeks for swelling to subside wholly revealing your new nose. Rhinoplasty is considered a 'lifetime' procedure because most patients only have one in their lifetime.
What is an Ethnic Rhinoplasty?
An ethnic rhinoplasty is often done to soften features giving patients a more 'westernized' appearance while retaining some of their ethnic flair. In most cases, Dr. Stein will make the nose less wide, create a taller bridge, and soften the contours of the tip. Occasionally, grafts will be used to project the nose outward and higher.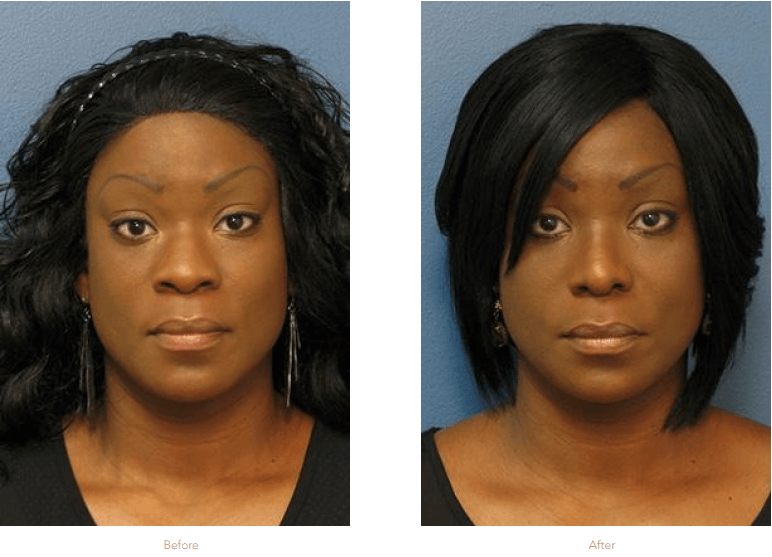 Dr. Stein understands the complexities that go along with performing procedures for different ethnicities. He'll work closely with you to create an individualized plan to address your specific concerns. Dr. Stein takes the time to listen to your goals and is available to answer any questions you may have in-depth.
How Much Does Rhinoplasty Cost?
Rhinoplasty surgery is a highly individualized procedure. The average price for a primary rhinoplasty surgery could be anywhere from $6,300 to $7,500 based on your aesthetic goals. Correcting someone else's work takes additional skill and artistry. Therefore you can expect to pay between $7,900-$12,000 for your revision surgery. Dr. Stein can give you a detailed cost estimate at the time of your consultation.
* Pricing is subject to change so take advantage while you can.
Ready to learn more about getting an Ethnic Rhinoplasty? Schedule a consultation with Dr. Stein at Stein Plastic Surgery based in Raleigh, NC today! Simply fill out the form on this page or give us a call at (919) 261-7099.